I have become a little obsessed with homemade sandwiches and wraps.
They are easy, fairly nutritious AND so delicious!
I am pregnant, as most of you guys know, so food has become quite a staple for the recent days.
Food is feeding my baby and cravings!
I thought I would share some of this yumminess with you guys.
I purchased whole grain sliced bread from the Target Bakery… it is VERY tasty!
Look at the edges, yummmmmm.
I then placed jalapeno jack and sliced black olives on one side, while the other has colby and onions… yes two sets of cheese!
Then I toast in our toaster oven for a couple of minutes, your house will begin to smell so tasty.
I have decided that toasting onions is better, they are less spicy and crunchy.  Plus toasting brings more flavor out in the cheese!
I am also a huge fan of salt and pepper…

Then I slice some 'never been heated' pickles.  We normally purchase Boar's Head or Claussen brands.
If you have never had these pickles, I would place a bet that you would NEVER buy the pickels in the middle aisles again.
These are only found in the refrigerator section.  Yes, they cost slightly more, but are much more flavorful and crisp.
This is also Boar's Head mesquite turkey from the deli… their meats and cheeses contain no fillers, gluten, artificial colors, flavors or trans fat.
You can tell it's 'real' turkey, just from the texture.
(can you tell me what sandwich shop or restaurant piles pickles on like that?)
Now for some fresh Organic Spinach leaves, these guys have full stems and are sold in a bulk, rather than packaged.
Finishing it off with some basil pesto mayo so it won't be dry and this adds a nice fresh flavor, without overwhelming the other flavors!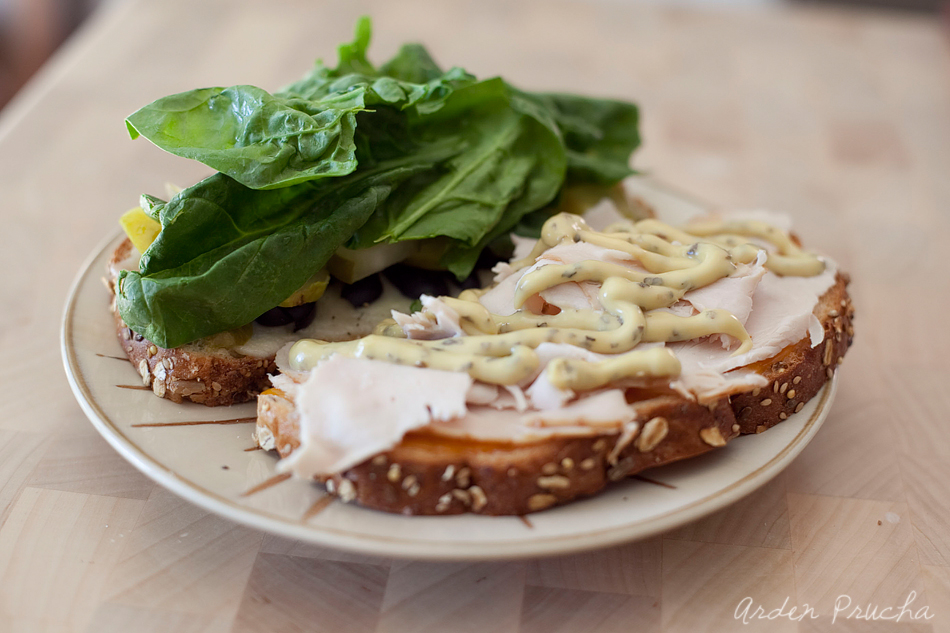 Flip bread together and give it a nice firm smooooooosh.
Gotta make sure nothing is falling off of this guy!
(whoops lost an onion in the process

)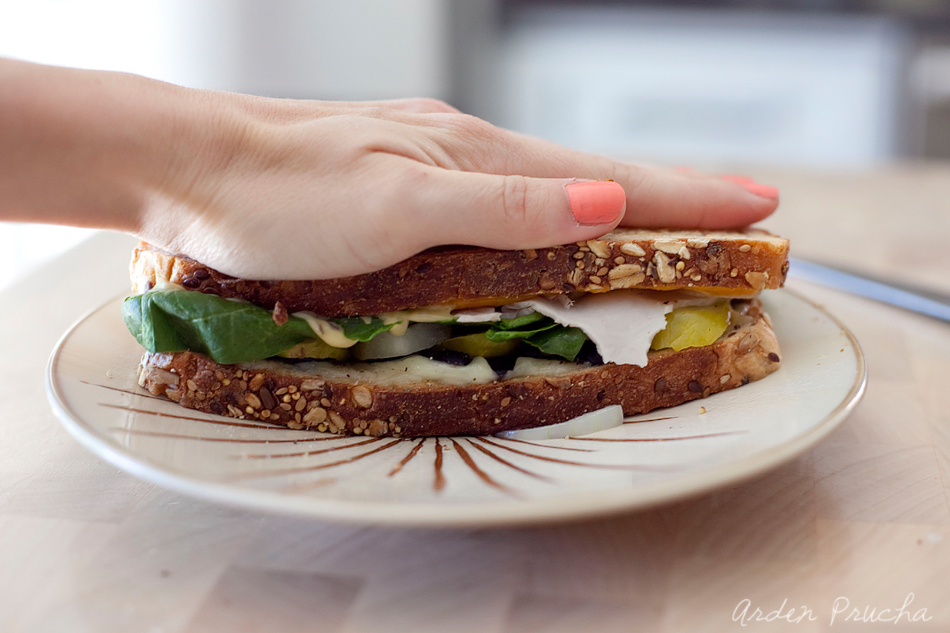 Time to make a center SLICE… look at that DELICIOUS sandwich.
I don't eat sides with this… it's big enough to fulfill my BIG appetite and I am not consuming empty calories from chips.
(but I totally had a slice of cake after this… shhhh! Those are very necessary calories, good for growing babies)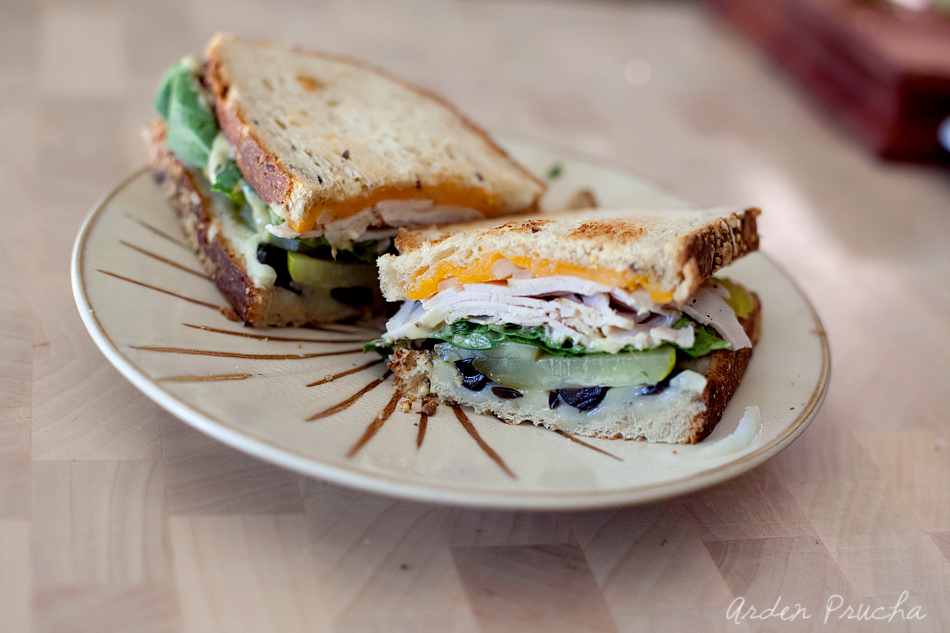 You can see the lovely and lightly toasted bread!
It's still soft and chewy, not too crispy!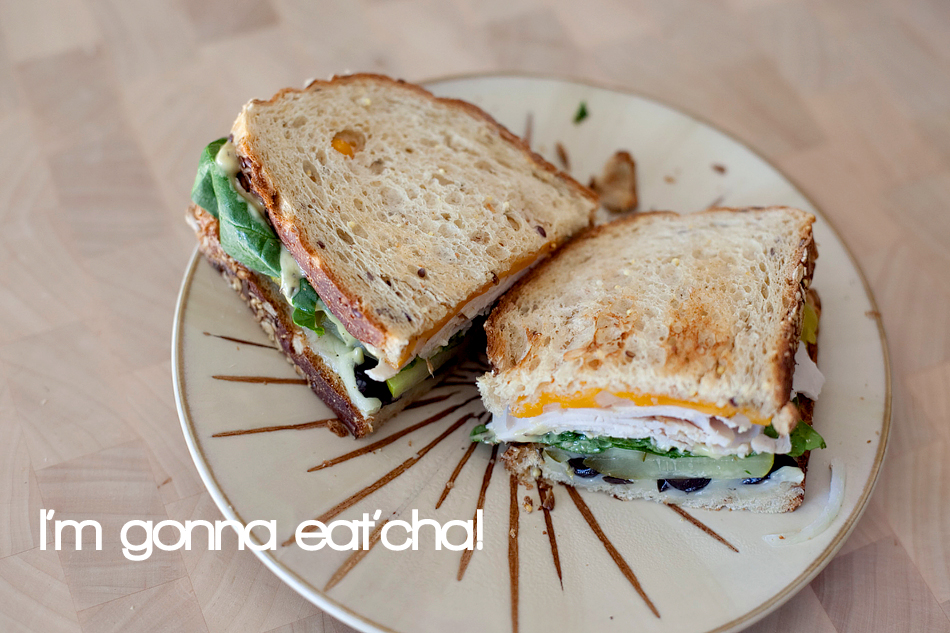 Make sure that your tot is hanging from the fridge during the sandwich making process.
Shoeless Parx – either a "Damn Yankees" character or she is pretending to be Cinderella?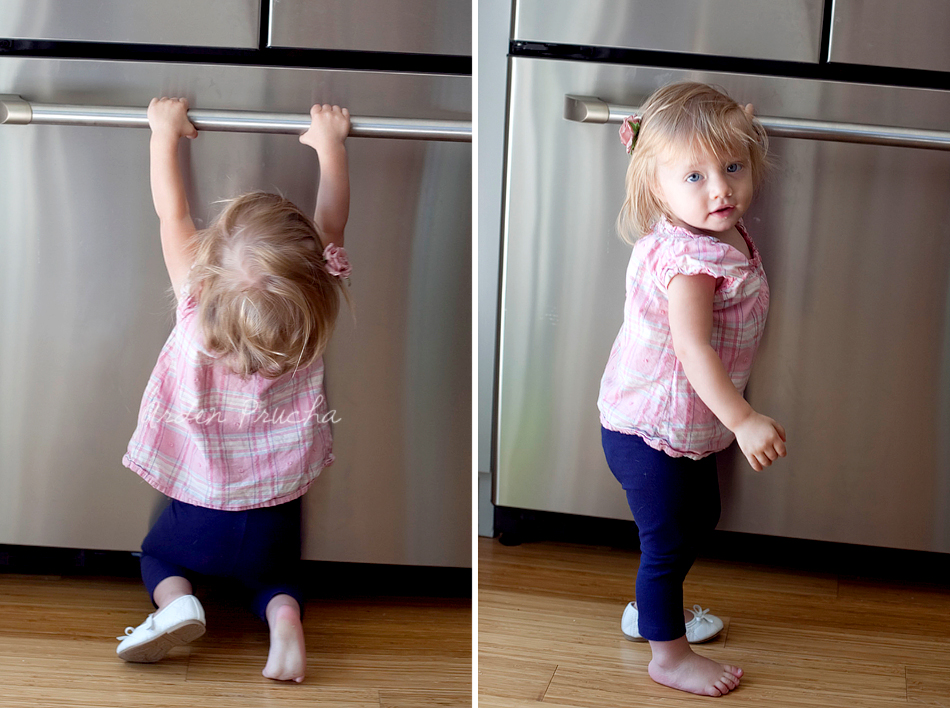 I made this guys a few weeks ago, with some left over grilled chicken breast.
Similar concept, but this was made on the sandwich rounds.
If you haven't had them, I highly suggest them.
Not too much bread, it is filled with oats and grains and is very tasty!
I used banana peppers, packaged spinach, onions, havarti (yum), colby jack and s/p.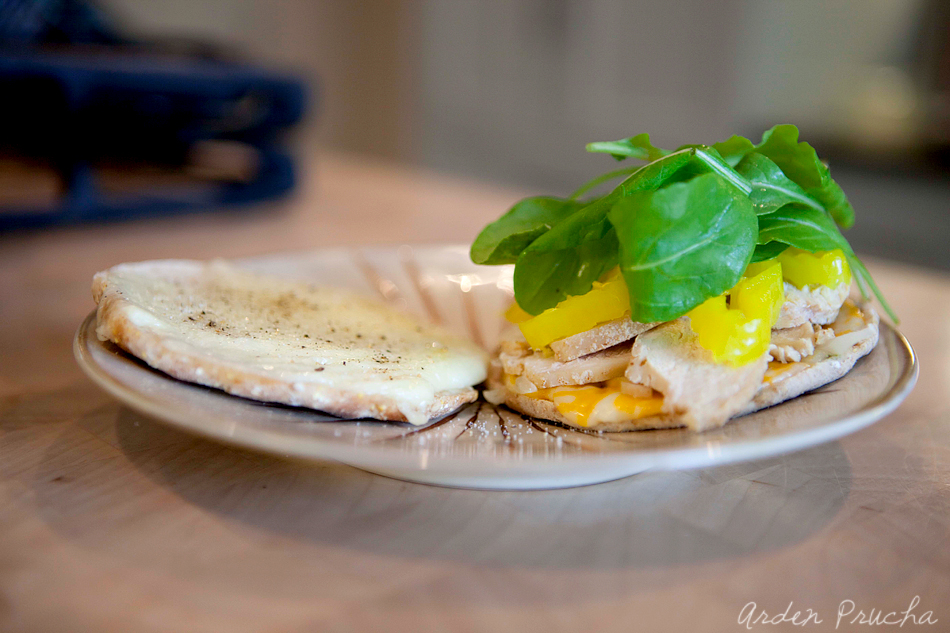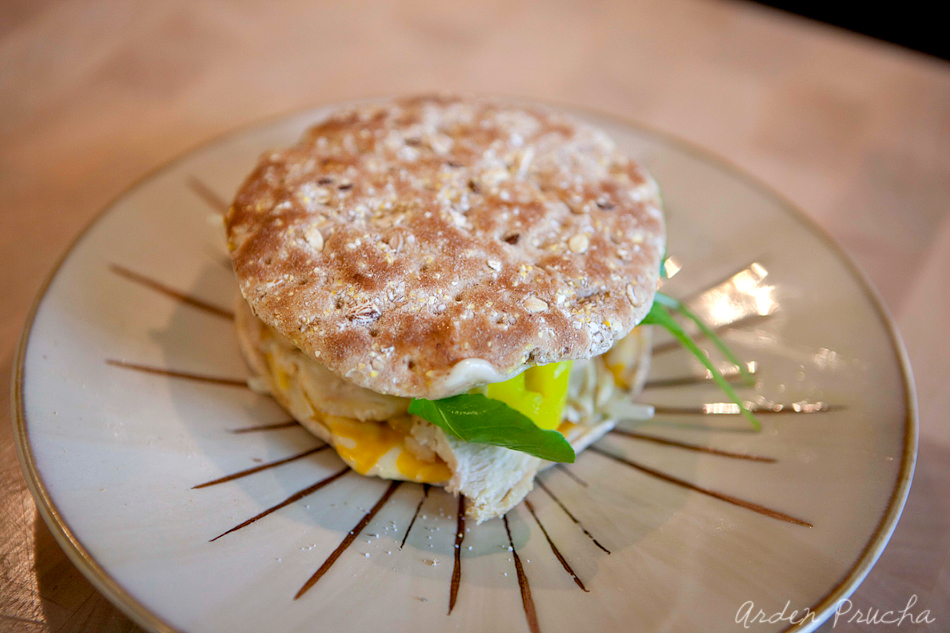 Look at that bread!!!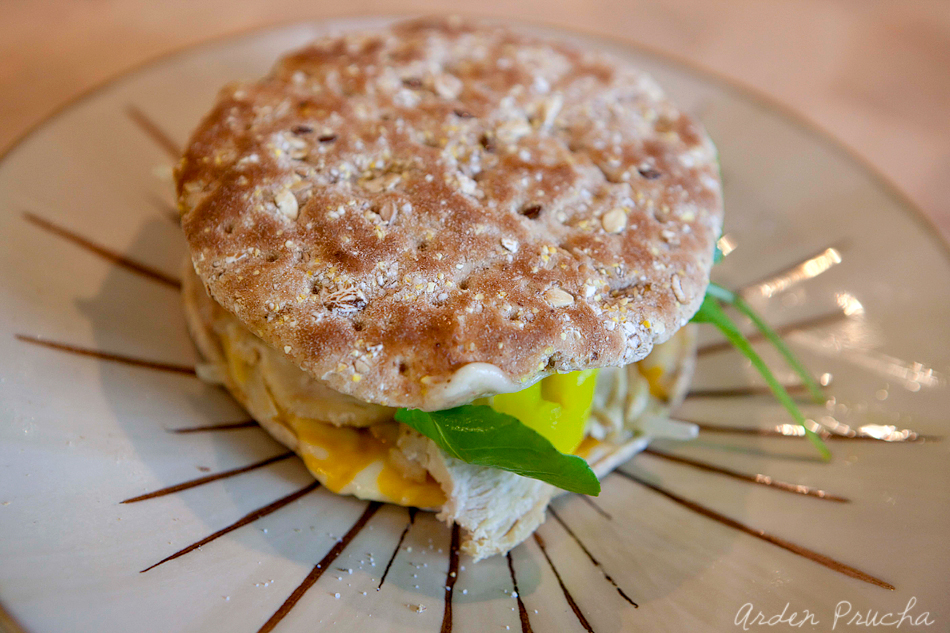 Another scrumptious and pretty healthy lunch!
I say that because some people may not consider cheese healthy.
I consider it a necessary addition to EVERY meal

I love love love cheese, any kind.
These are also VERY EASY to make vegetarian… add some more veggies, minus the meat.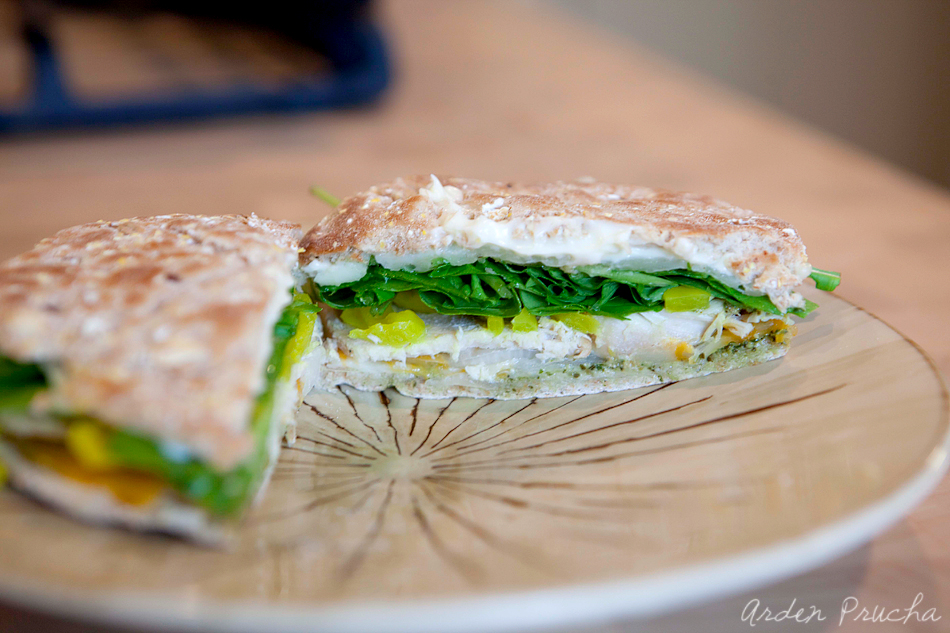 Voila…