So I have to say FIRST… before the long story and before even MORE photos…
Please watch this slideshow.
Heather Essian – my amazing friend and photographer – put this together.
She asked me to 'pick a song.'  I chose 'This Woman's Work' by Kate Bush.
If any of you have seen 'She's Having a Baby' you will understand why this song was special.
(AND it's a John Hughes movie… if that tells you anything about how AWESOME and quirky it is!?)
I adored the movie as a child and that song has ALWAYS conjured up emotions – related with child birth, an adoring spouse and ultimately: LOVE.
Thank you Heather – for devoting hours and hours for us.
We cherish these moments and will always be albe to remember exactly how our sweet E came into this world!
(to see a better version: CLICK HERE – if anyone can tell me why it isn't showing the text (or full size please let me know!)
Well, if you read my last birth post you know that Paul and I went to bed at 11pm Sunday (14th) – with my midwife, Donnelyn, predicting that I would go into labor just after relaxing and lying down.
So was D right?
Of COURSE she was!
I woke up, once again, with contractions – at MIDNIGHT!
I tracked them for an hour and they were 4-7m apart, this time lasting a full minute and pretty intense.
Got in the bath and had nice and even contractions, so they were NOT slowing down.
Donnelyn came around 2:30 and the contractions had been nice and steady.
Progression wasn't quick – ya know I kept hearing 'OH BABY NUMBER THREE will be FAST!'
Well, not necessarily – considering numero uno was an induced birth leading to a cesarean and numero dos was pitocin induced VBAC…
So, my bod had never 'labored' on its own before…
I was also very eager and anxious, which probably slowed things down at times.
At 3:30 am I was 3cm and 90% effaced… the contractions started to intensify, but were not quite 'unbearable.'
The key Donnelynn told me: MELT INTO your contractions. Don't fight them, don't tense up, don't make high pitch noises.
Just… relax.
Well, of course that sounds EASY right?
Ha, not quite.
I would have to tell myself (or have Paul or D tell me) to relax, melt in, let go.
One of the best things Donnelynn would say: "You don't EVER have to go through THAT contraction again… IT'S OVER."
Each one would be GONE before I knew it.
The thing I had a hard time with… HOW MANY MORE would I have to endure?
4:30 am roles around and it was time for my family and my photographer to join us.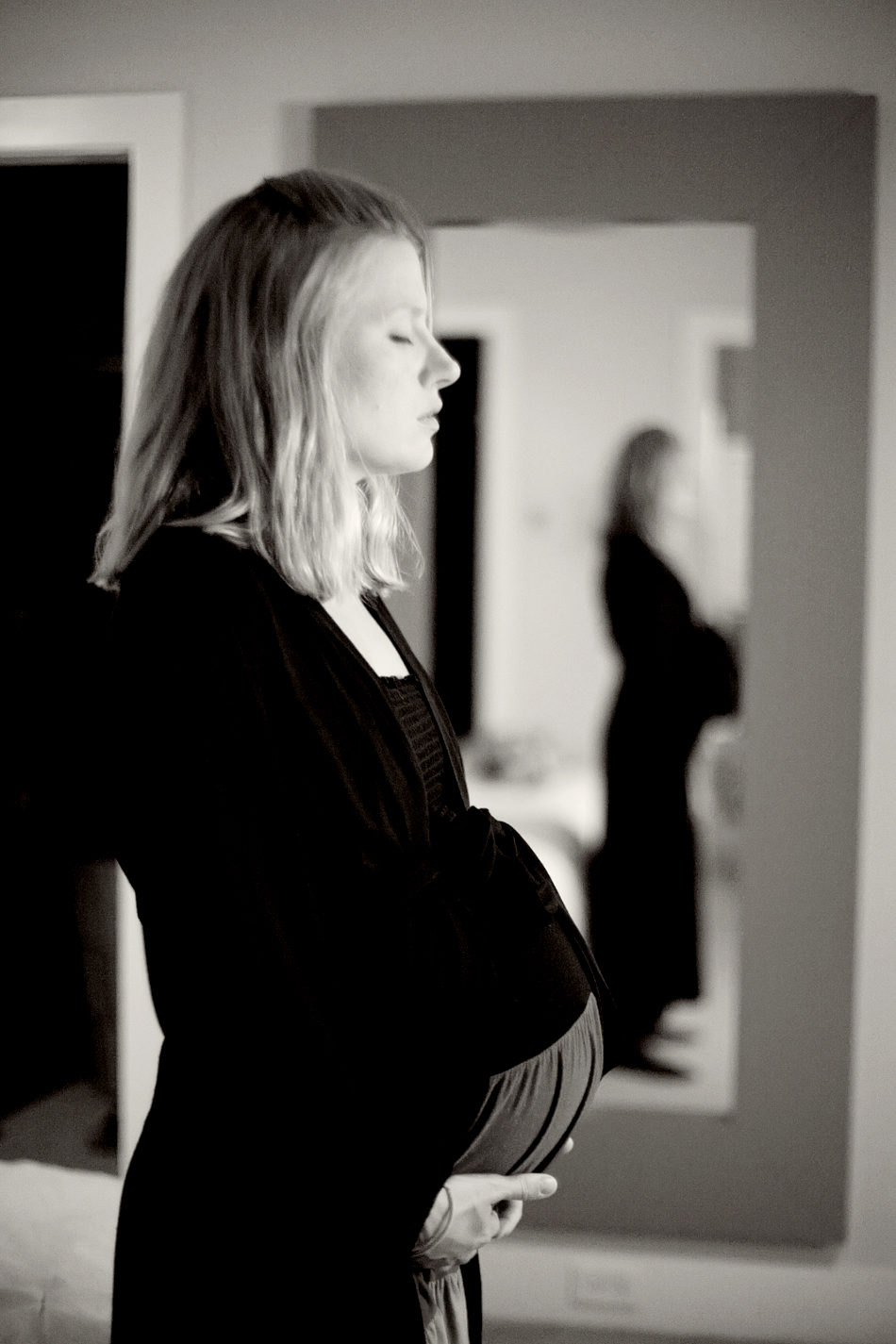 My husband… I really could not have done it without him.
He guided me through.
He held me.
He caressed me.
He loved me.
He spoke to me.
He prayed for us.
He laughed, he cried, he was the perfect husband and father!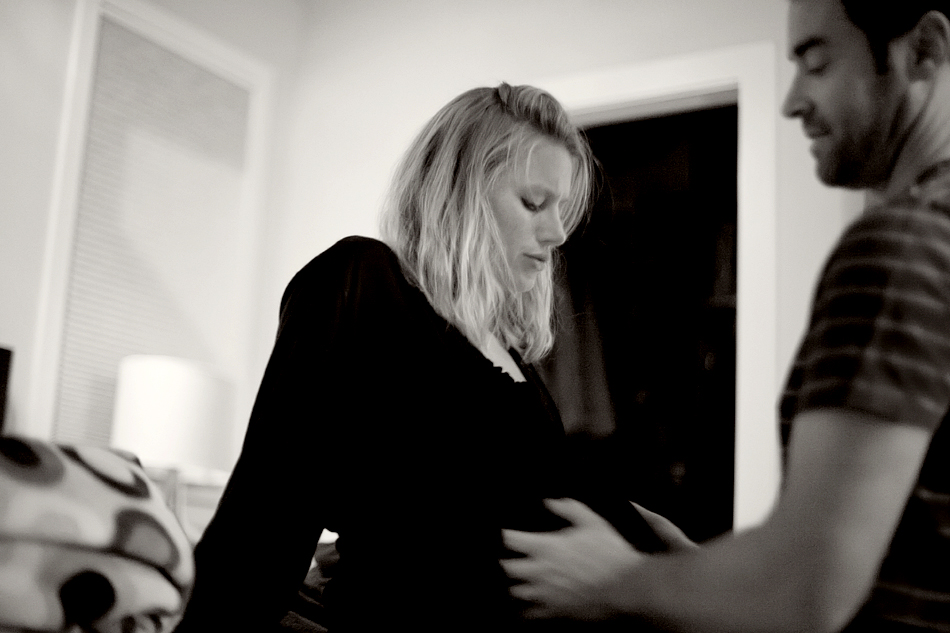 We were so tired.
The day before was exhausting – because of early laboring.
Then waking up at 12am… in true labor.
This is 4:30 am.

So glad that our new DVD player has our 'Pandora' account on it!
We had the John Mayer station playing… lovely!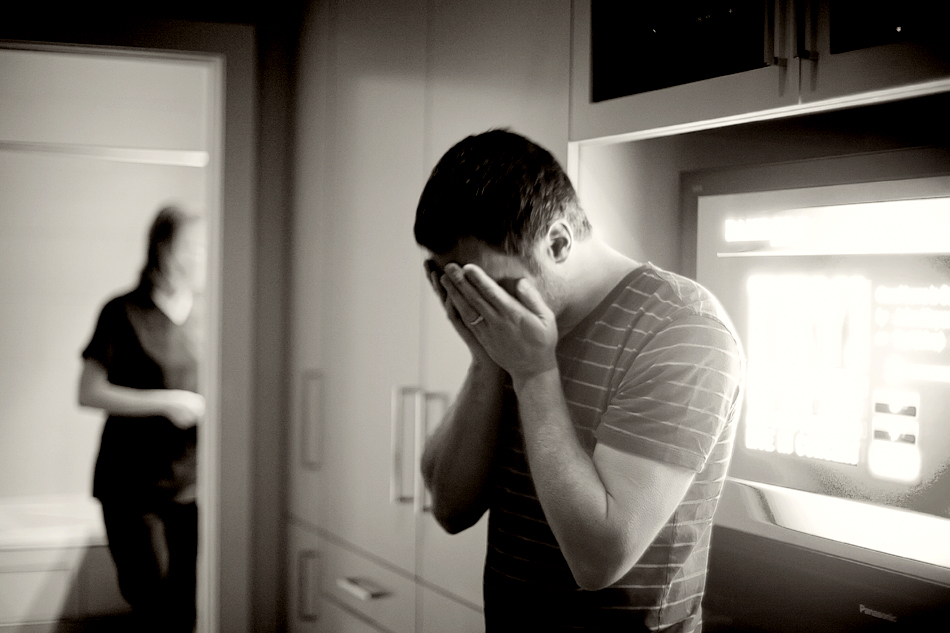 Sweet Donnelyn…
At this point I was able to talk in between contractions.
I was even able to SMILE for a bit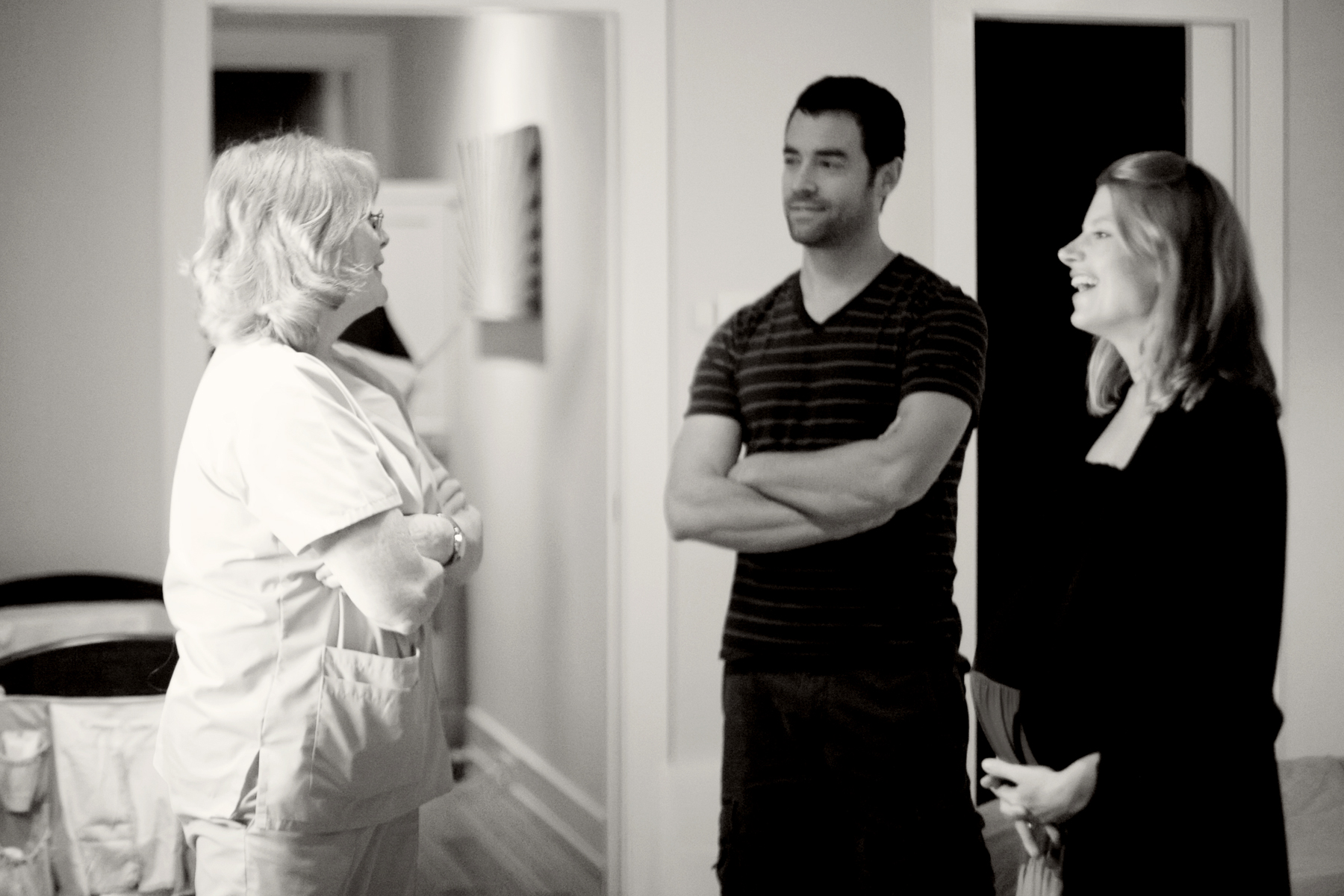 Saying something silly I am sure.
We joked because I told Heather – I didn't get any smiling photos of her (she had a very hard labor).
So we made sure to be silly in a few…
and like I said – it was not QUITE intense yet.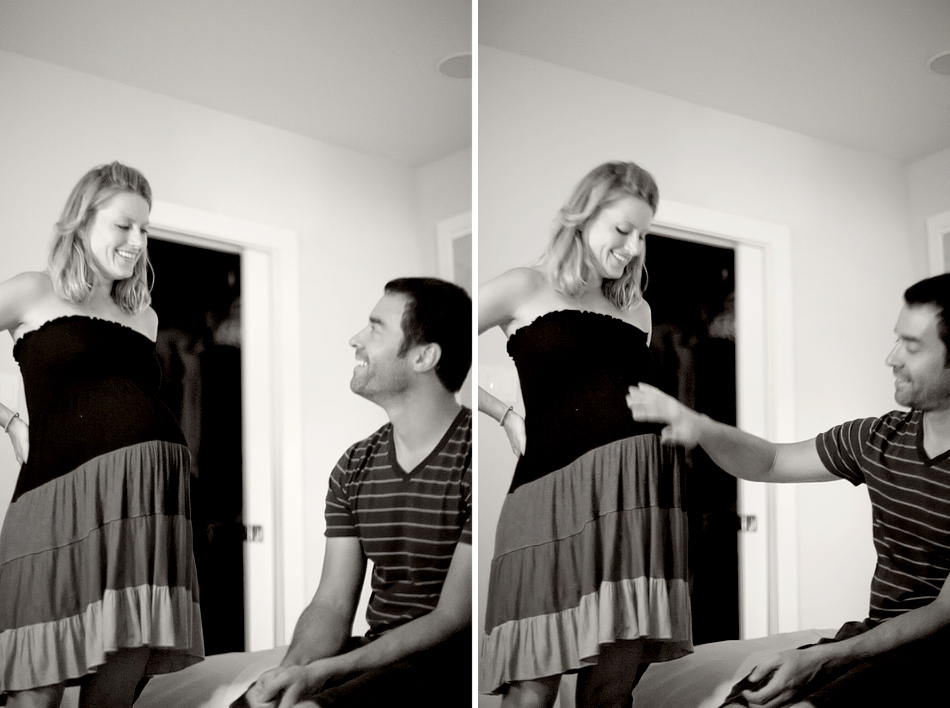 My mom and sister…
I wish I had known – to warn them that I wasn't going to be as 'friendly' as the epidural births!
At one point I stopped wanting to converse… or really have anyone around.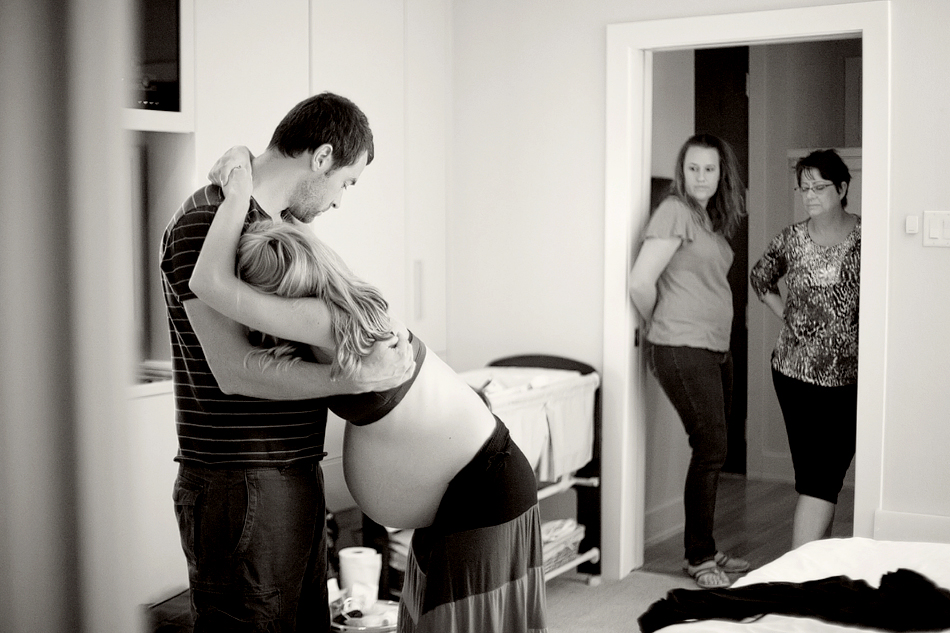 Paul's pockets were my BFF – I remember wanting to find them.
When a contraction would creep up, I would put my thumbs in his pockets and lean on him.
Donnelyn and Sue told me to open my legs as much as I could.
I would sway from side to side or move my hips to find comfort.
This also allowed baby to descend more.
Look at this BIG belly!!!!
It's weird, to see it now – now that I have her in my arms and not in my womb.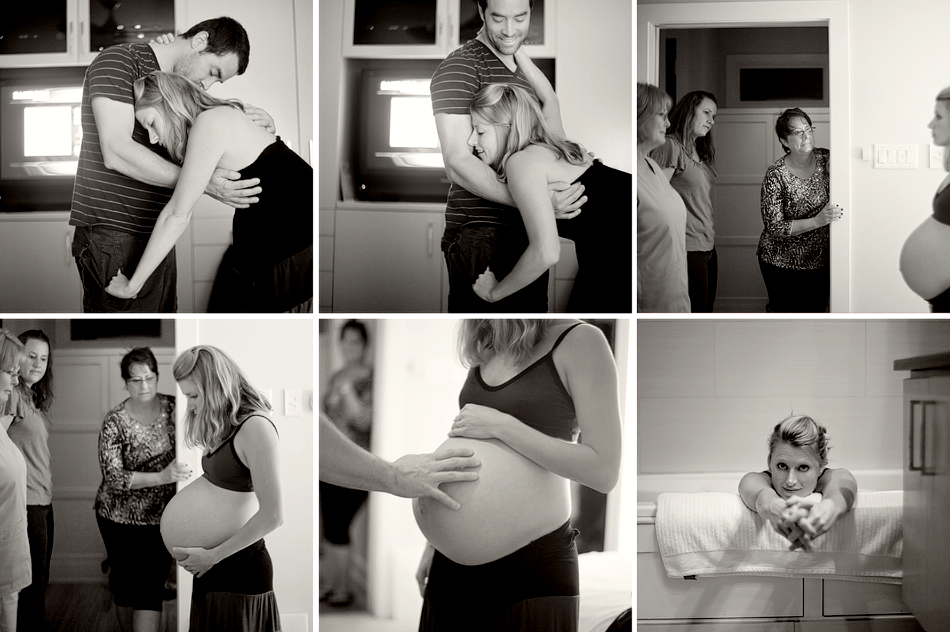 We first assumed that this would be the final portion… in the tub.
While I was in the tub, I began to get VERY tired.
In between contractions I would dose off.
This sleeping really frustrated me, I thought: "How can I be progressing if I am falling asleep?!?!"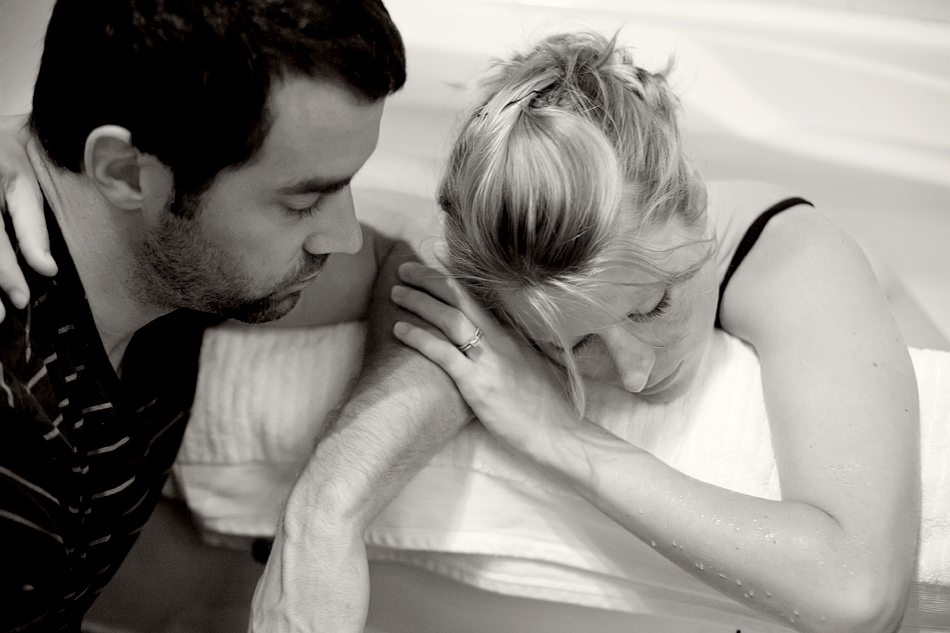 Once again – a SMILE for the camera… only for the camera

I told Paul to go grab some coffee – he was just as exhausted as I was.
My mom and sis stepped in to comfort me.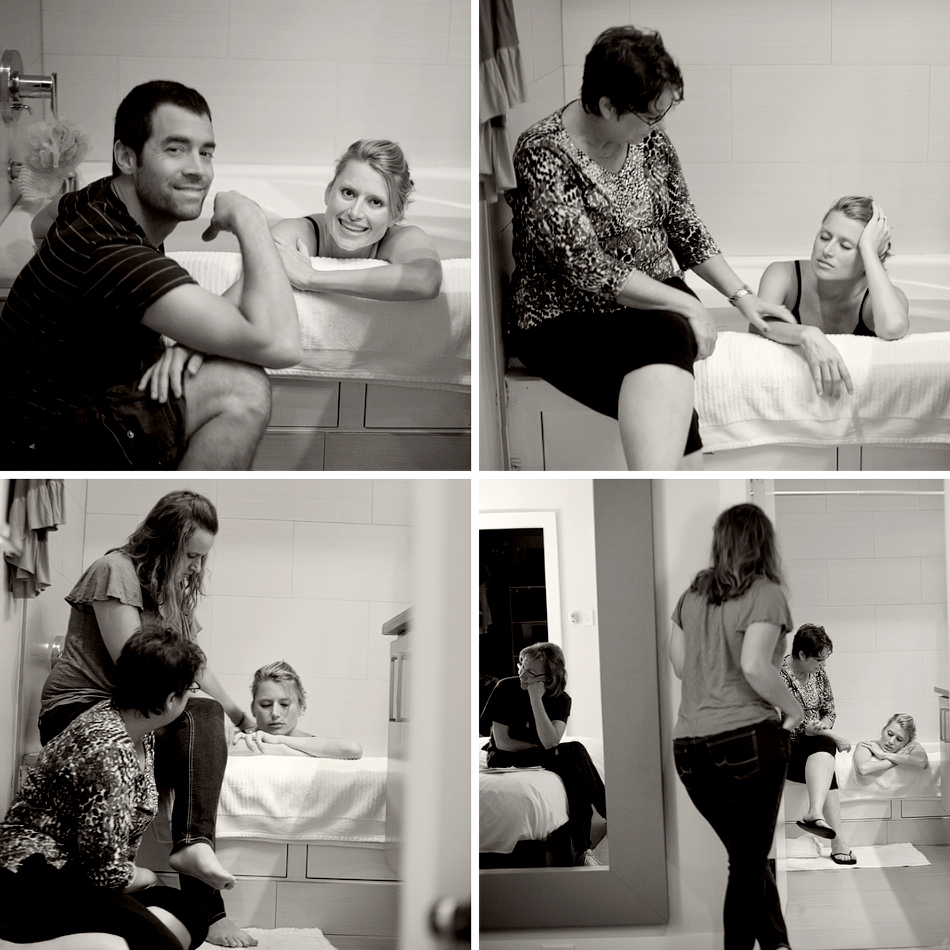 Then I felt it was TIME to get some energy – get OUT OF THE TUB for a while – and WALK AROUND!
I really really wanted things to progress.
So we went on a walk – up and down the street – right at sunrise!
It must be just around 7am at this point.
My sister came with me – it was hot and muggy, but a beautiful day.
I love how my sis and I are mirroring one another.
So true to 'US.'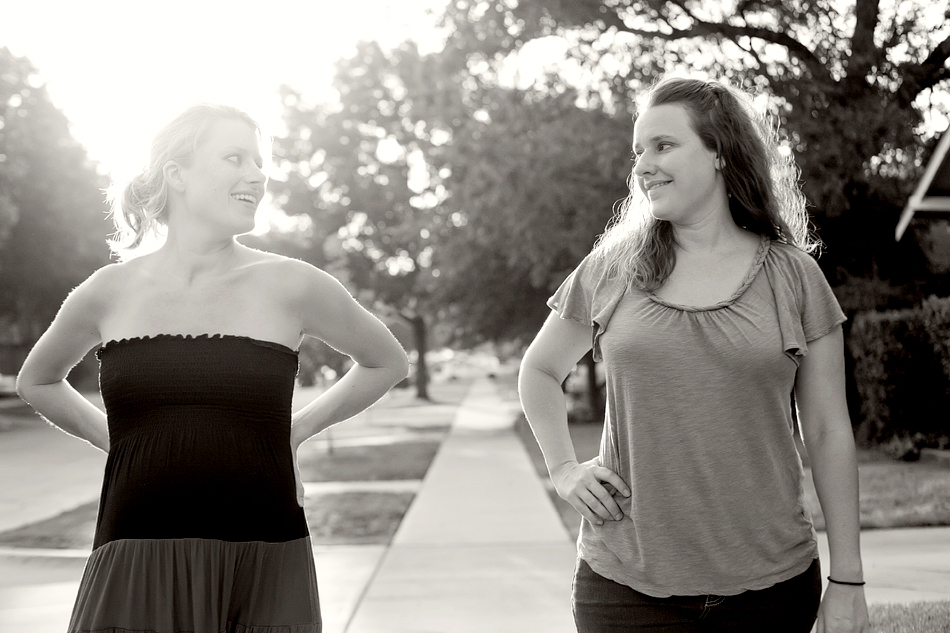 At this point… I was 6cm, 100% effaced and 0 gestation.
We were getting there!
I was nearing transitional stage!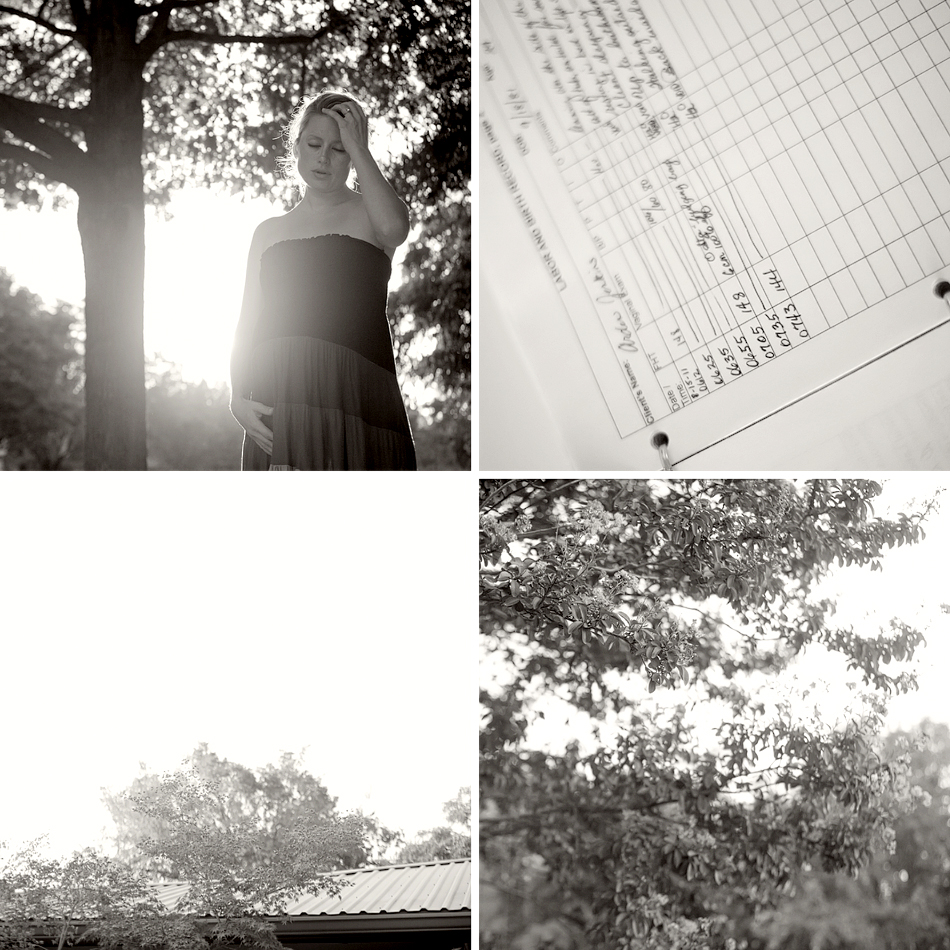 I came back in and was so tired.
Paul was too.
What I love about Donnelyn is that there is NO RUSH.
She is a firm believer in listening to your body.
So we napped, for a short time.
Through the contractions, I lay there – with my husband – peaceful and in rest.
Little did I know that it was about to get harder and more intense.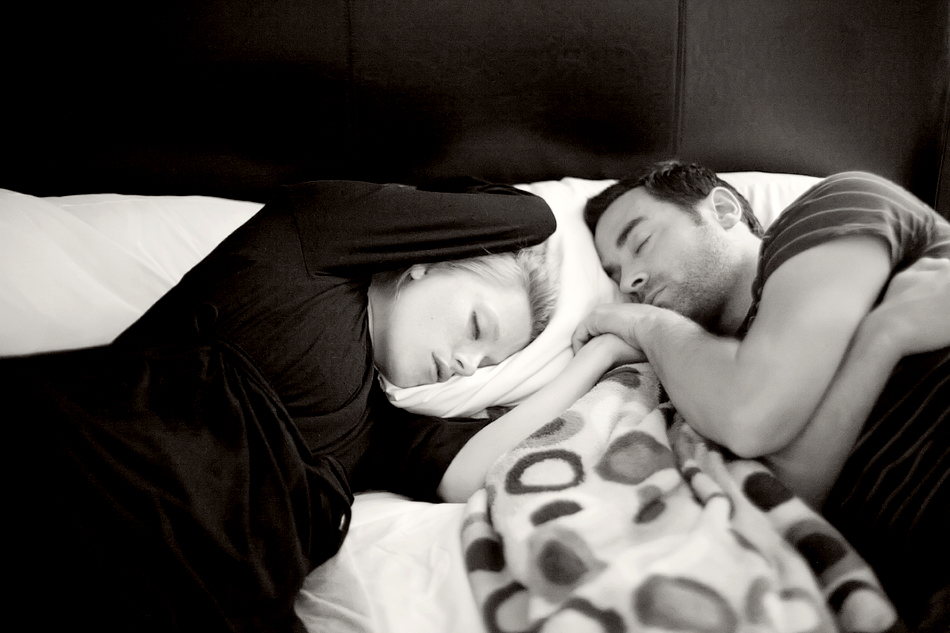 Our children woke up… not knowing any of this had been going on.
Though, I wasn't in the mood to see them.
I was in more pain, and wanted to stay focused.
Parx didn't quite understand.
My family did a great job at keeping them entertained.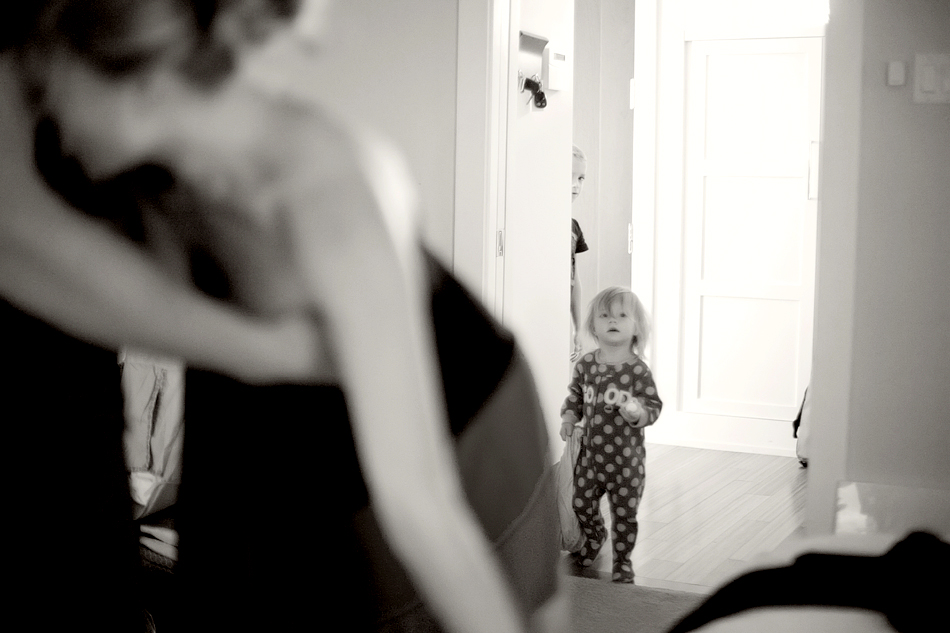 This is where I became more 'stand-offish.'
My conversations lessened A LOT.
I wanted some gentle guidance through contractions.
I wanted to know how much longer I would be laboring.
I was 'over it,' but not giving up.
Now, I type all of this – not wanting to sound like it was miserable – it was definitely HARD.
I hated it and loved it.
It is WORK, it is LABOR – hard, intense and beautiful… as every ounce of pain brings me one step closer to my little 'baby.'
I kept praying to God, "Get me through Lord, help me God, Be with me."
Sometimes whispering, other times in my head.
I almost forgot to mention – my devotion to HIM – through all of this.
My God – creating life through us… bringing this baby from my womb to my arms.
I prayed – for his hands to assist in the laboring. Reducing pain and bringing baby to us – with no problems.
At this point I was an 8… she suggested some things I do to assist in water breakage.
My water didn't break though.
Not yet at least.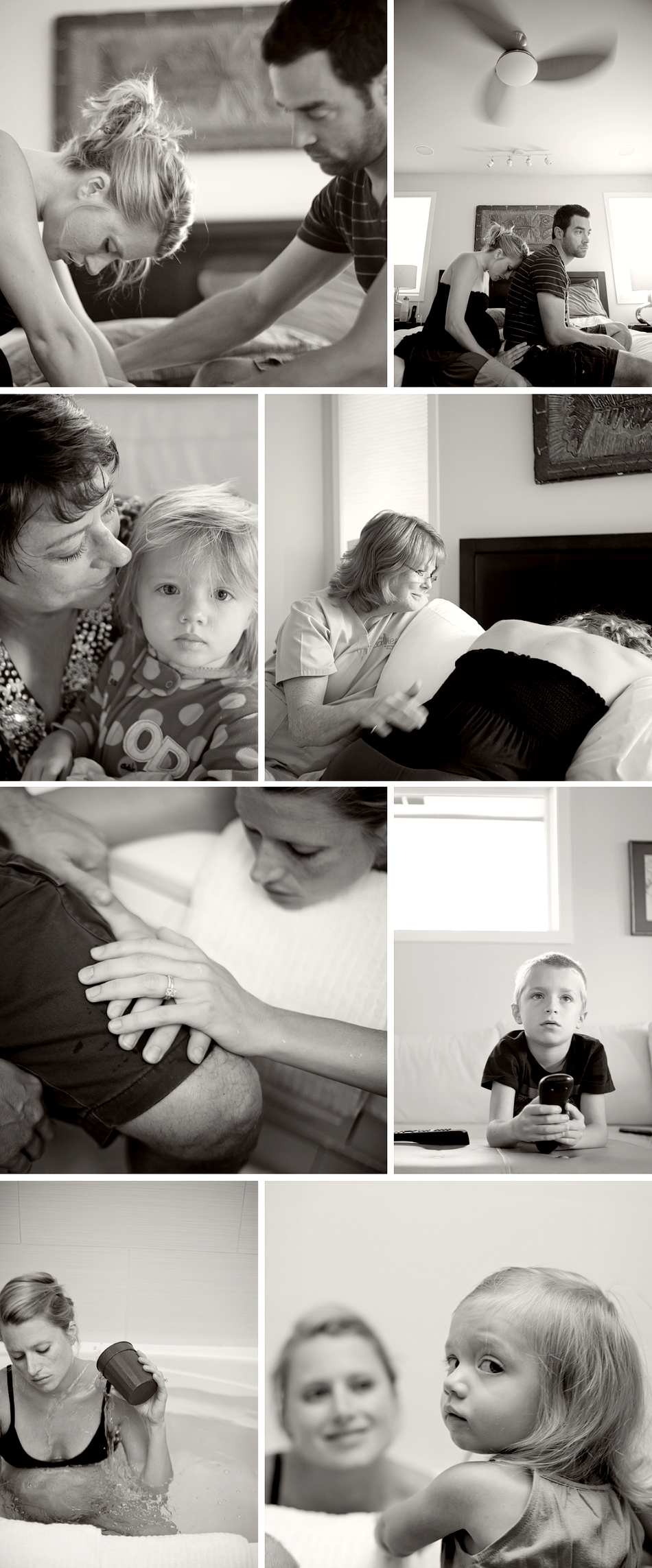 So, this is the point where I was emotionally 'done.'
I was EXHAUSTED.
I felt 'stuck.'
Stuck in this… 'you are in labor, but baby is NEVER going to come' moment.
Just before this photo I was in the tub, holding Paul's hand – and crying, with zero energy and few tears – as that would take more work to create them.
I remember Paul left the room, I am sure he said something to Donnelynn.
It was time to get out of the tub [again] and get this thing going.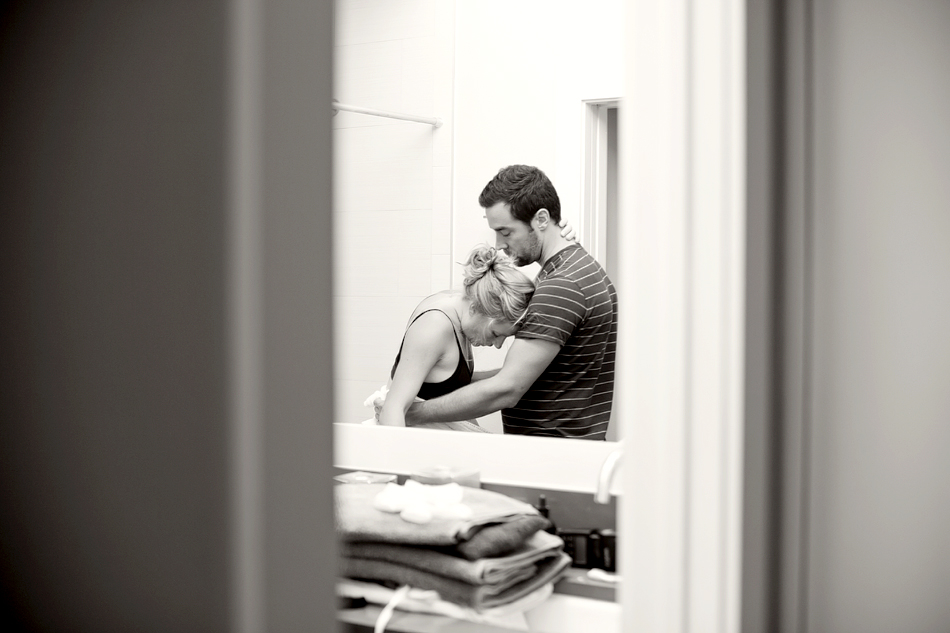 D, checked me again and we were SO CLOSE.
She decided to help – help my body move along.
She meant BUSINESS.

She did some manipulating…
She put me in some positions.
She knew this mama was MORE THAN ready to meet baby Jenkins.
I remember her telling Paul how to stand and that I was going to come over and hang on his arms – while in a squat (sexy huh?).
I waddled over and leaned my back on his belly.
Once the contraction came – I squatted down and hung.
D, helped by putting pressure on my belly.
I remember saying, "I WANT TO PUSH!!!!!"
(I have NEVER felt that feeling before, it was amazing – and scary)
She responded with, "Do what your body tells you."
So I did. I pushed!
I felt Paul shaking and heard his breathing – he was nervous, excited, scared… perhaps crying for me?
D responds with – okay only 5-10 more.
I thought 'ARE YOU CRAZY?'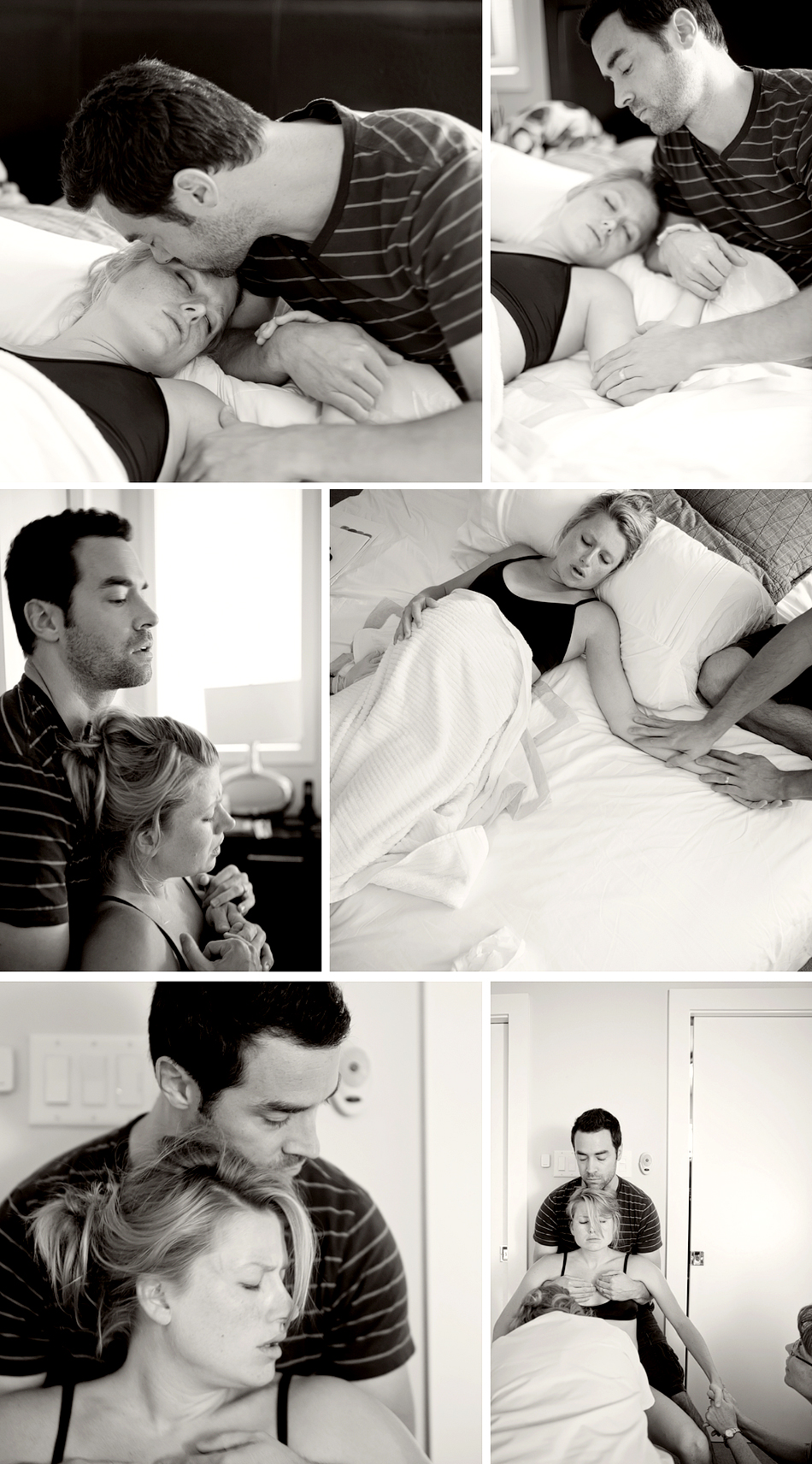 Then the next contraction came and we did it again.
Once again – it was time to push – at least that is what it felt like.
We only did THREE of those and BAM it was time!!!
The baby was ready – my body was ready – I was going to meet him or her so soon.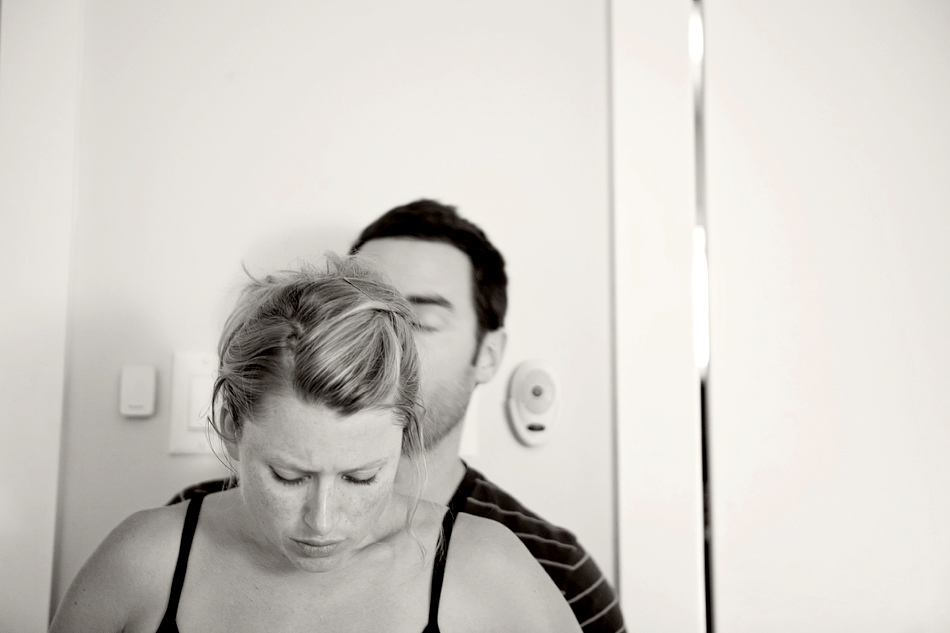 D told me that if I wanted to have the baby in the tub, we would need to go in there now.
So now I was REALLY was waddling over to the tub.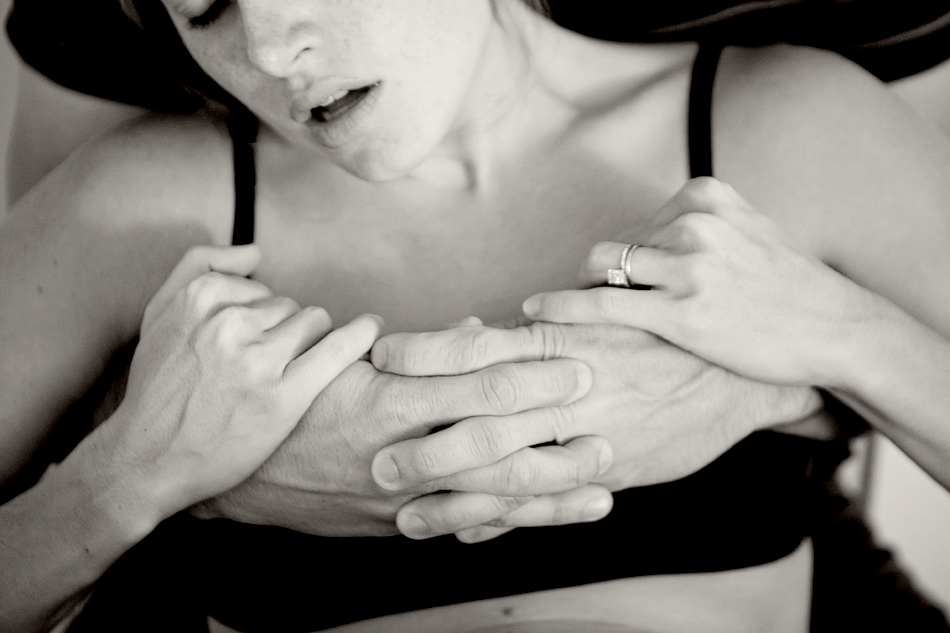 I had Heather get my sister and mom… I knew they would want to be in there for the birth!
The only problem – our bathroom is NOT roomy.
We had two midwives, their apprentice, the photographer, my mom and sister squeezed in a small area.
The next contraction came… and by golly I loved knowing that it was FINALLY time to push.
I could feel it.
The urge, the desire to get this baby through the birth canal and into my arms!
One of the most special moments of the entire day is… when Donnelyn looked at Paul and said,
"Paul, I want you to repeat everything I say…
she may not hear me,
but 
SHE WILL HEAR YOU."
She was right. I would hear my husband.
He was my rock. He was my love. He is the father of my children.
So, I listened.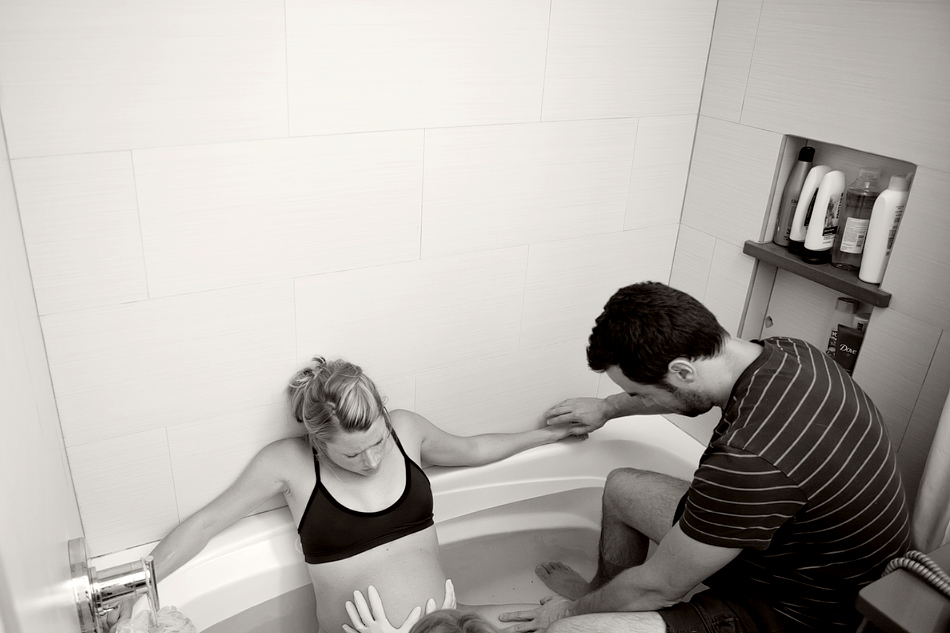 I never thought I would make noises… but I did.
Even though pushing is painful, it was NOT the most painful part of the labor.
This was the FINAL portion of the ENTIRE process.
Pushing – is easy!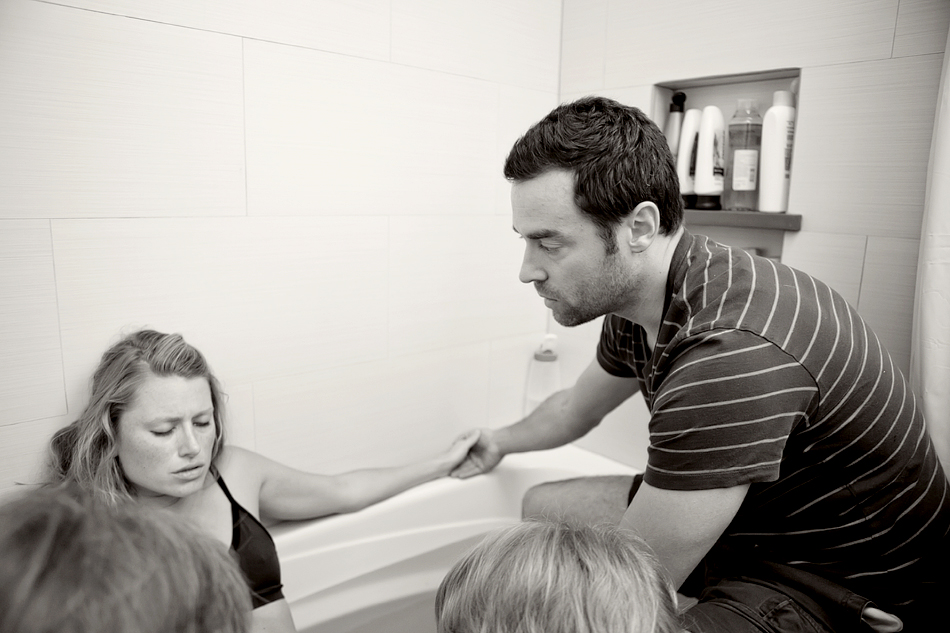 As I pushed I could feel each little thing happening.
At first I thought I felt the crowning, but in fact it was my bag – of water coming through and breaking.
 A nice cushion prepping my body for the soon to come head…
Then I felt it, the head coming, crowning.
I remember D telling me 'if I tell you to stop pushing, stop.'
I kept thinking to myself – if she asks me to stop – there is NO WAY I can stop!
Luckily for all of us, she NEVER said STOP!

So I pushed… again…
My baby's head was out.
I knew, that was the hardest part – get that body out and baby will be HERE!
So I pushed again… and baby came into the water.
This was when I finally opened my eyes and looked down as I watched her come into the water.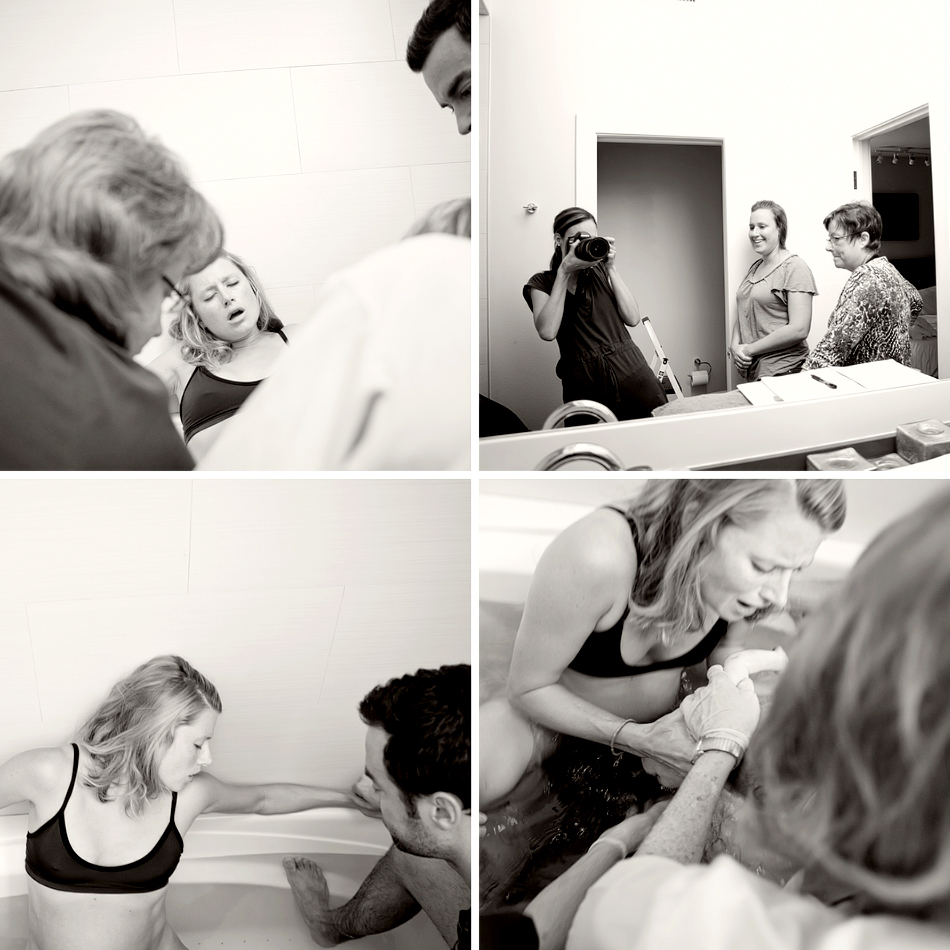 I started saying – over and 0ver – 'My baby, my baby, my baby!'
I looked at Paul – he was red. He was crying with me.
We were so happy – and in shock that it was OVER.
Our baby was here!!!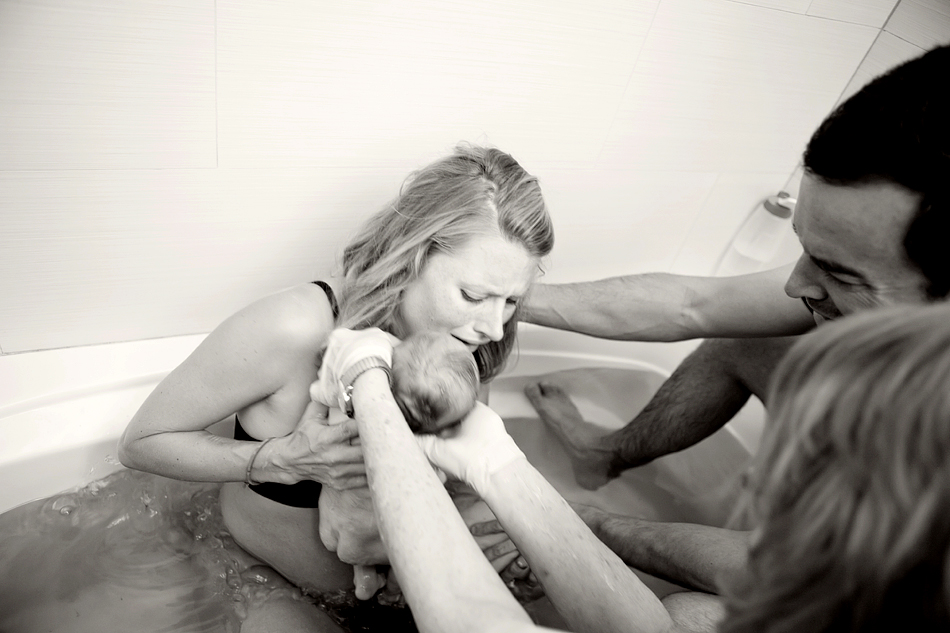 Then I was in reality and heard my mom say 'WHAT IS IT????'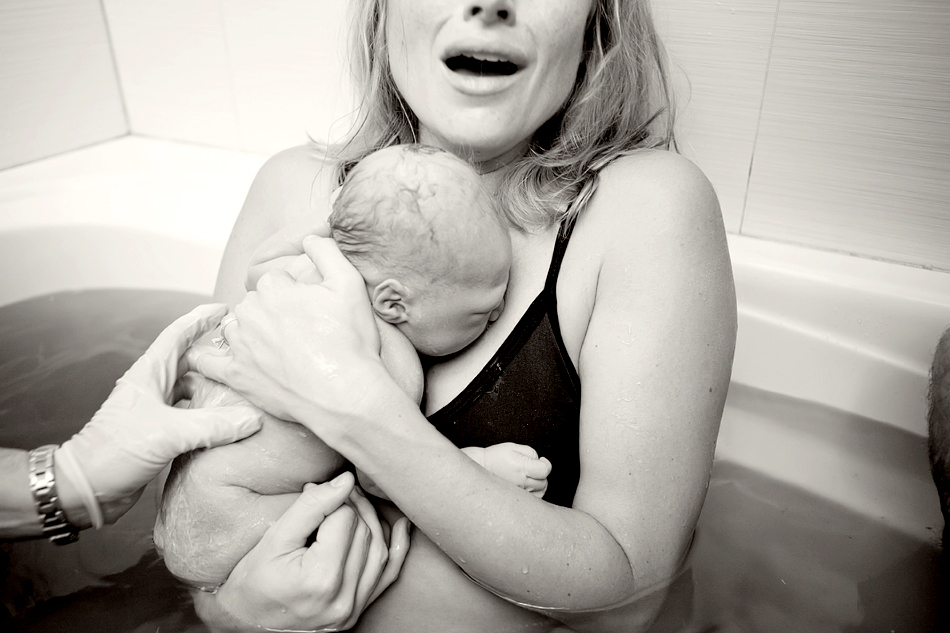 So I felt down under the bottom and said, "I think it's a girl?" and they helped me pick the baby up…
'IT'S A GIRL!!!!!!'
See us smiling – Paul said, "YOU GOT YOUR GIRL!!"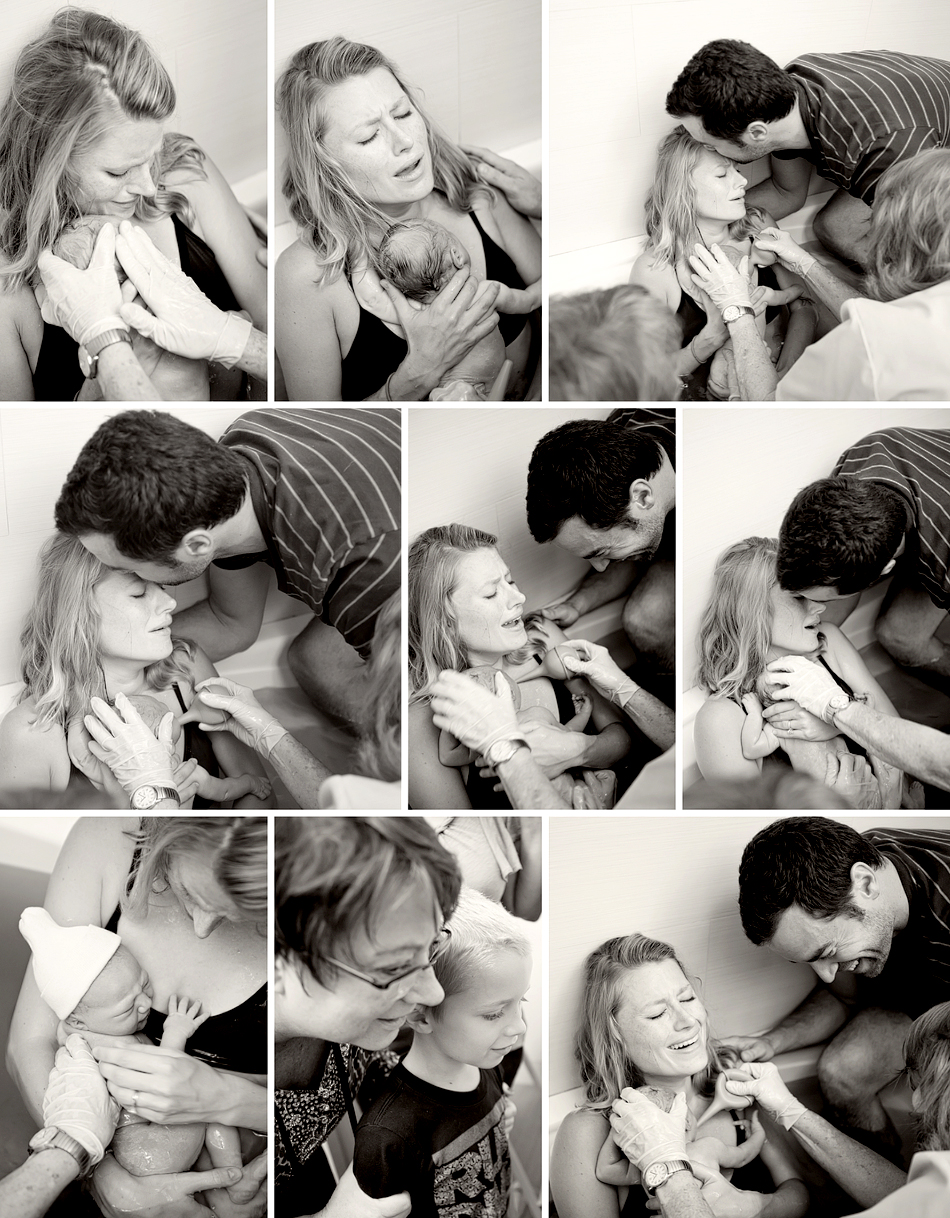 Parker and Pierson came in.
I told Pierson, "It's a girl."
I did see disappointment on his face.
I know he really wanted a brother.
He never told me he was sad, he said – Mommy, I am happy I have another sister.
What a strong boy.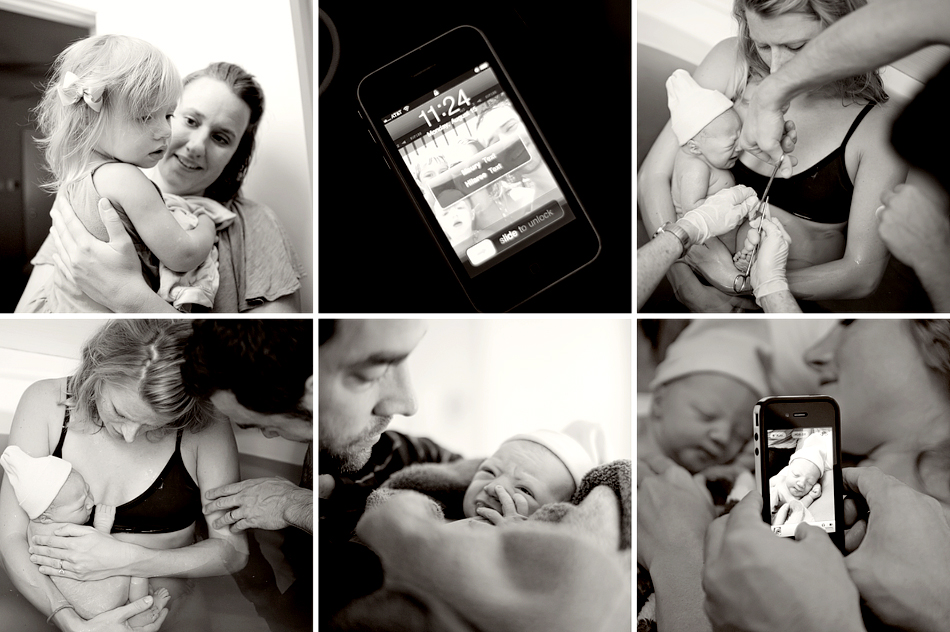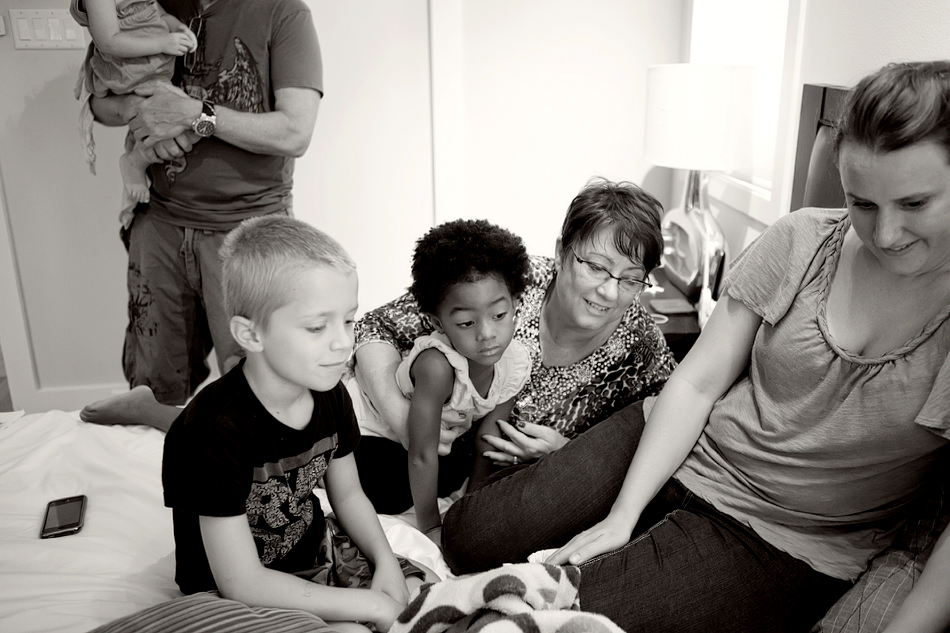 I did start losing blood after the birth.
D got me out of the tub, prior to the placenta delivery.
She wanted to be able to measure how much blood I was losing, rather than in the water.
Unfortunately it was more than they would want.
I became quite colorless and out of it.
I got a little bit of tunnel hearing – not being able to focus and passed the baby over to Paul.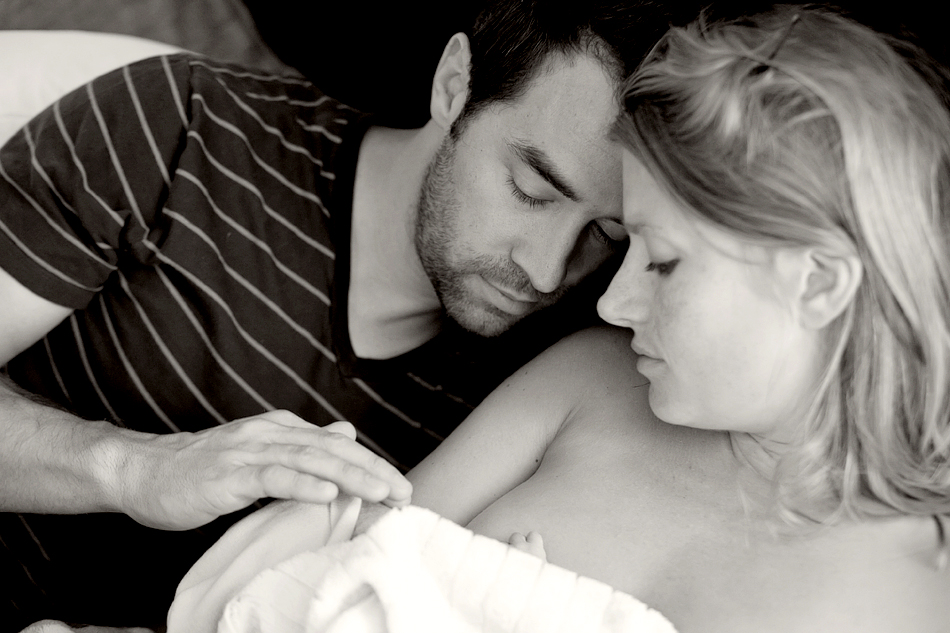 The good thing, D was ready to take care of me.
I did have an IV, some pitocin and some chlorophyll to assist in replenishing.
Once that IV hit about half to three quarters empty I started feeling MUCH better.
Amen and thanks to my team for being proactive and watchful!
I love that my team also included the children in the Newborn screening!
So special for them… see Pierson listening to his baby sister's heart?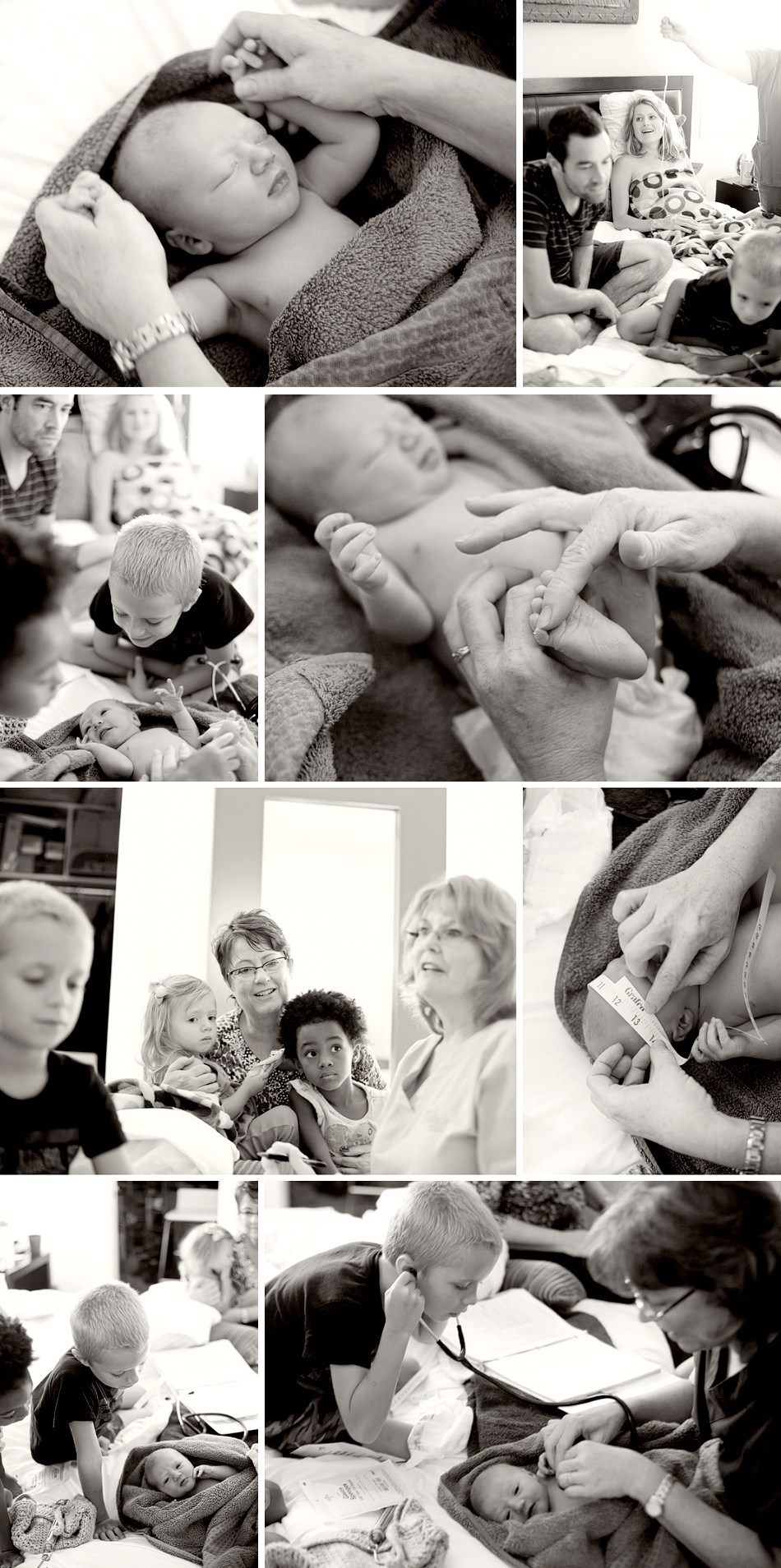 Parx meeting her sister for the first time!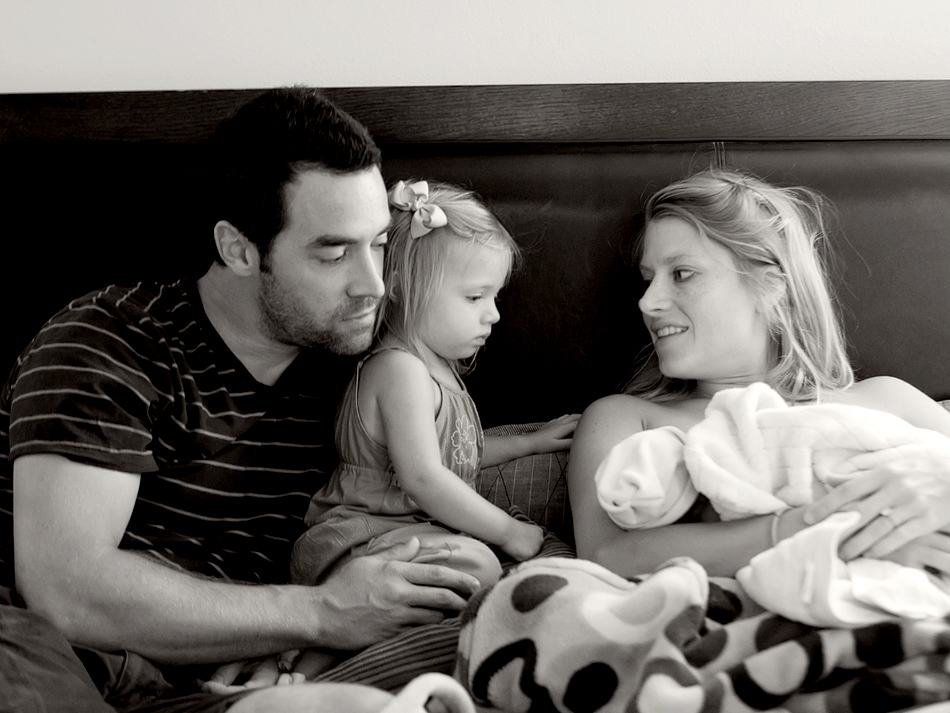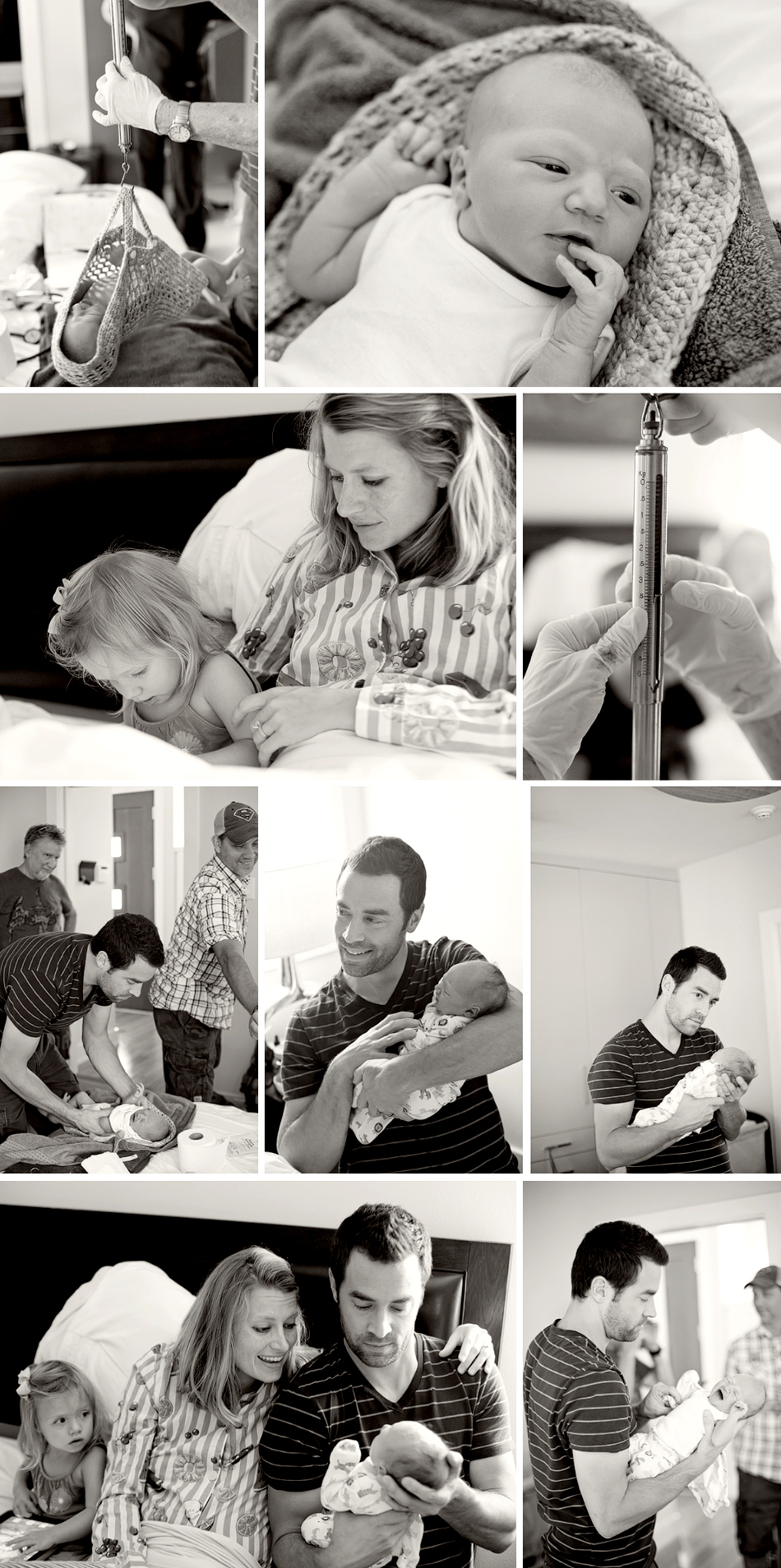 My daughter:
Eden Meredith Jenkins
7lbs 10oz
20.25″ long
Born on August 15th, 2011
at 11:08 A.M.
In our Home.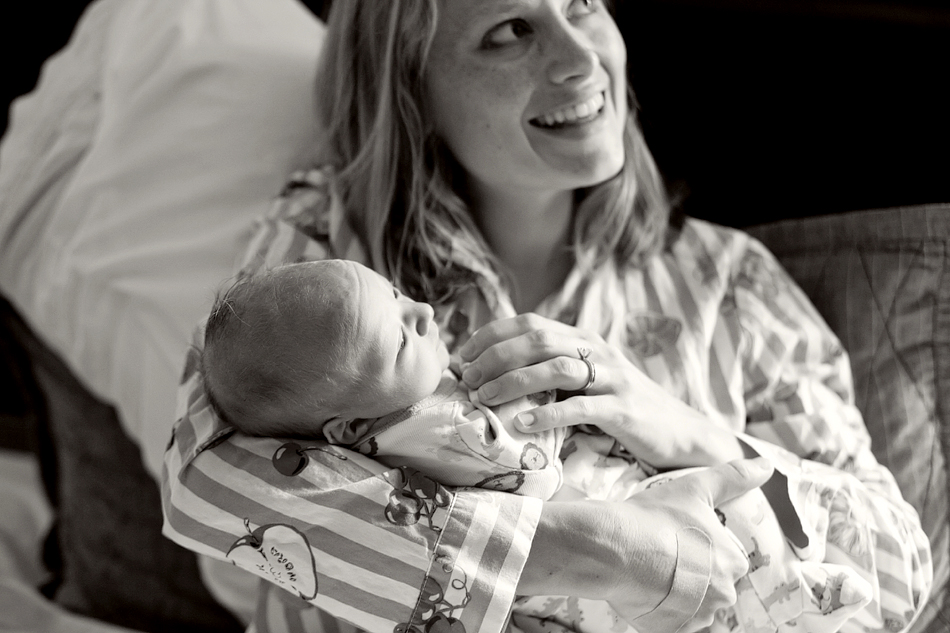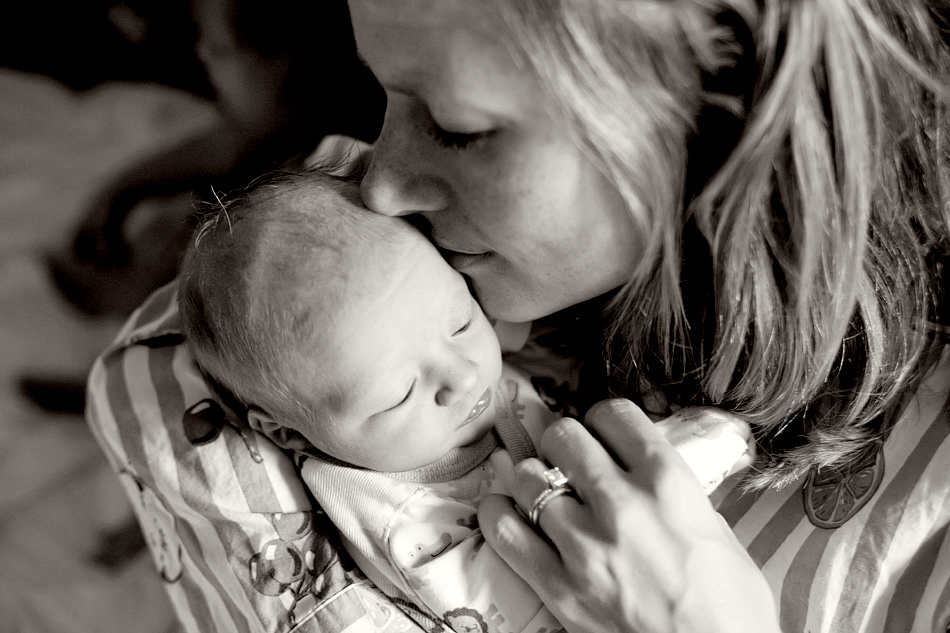 Would I do it again?
Yes!
Did I think that right off the bat?
No!
I wish I wouldn't have waited so long to swap over.
I didn't know what to expect – nor did I prep my family enough.
I do not feel 'finished' yet with children.
Paul may be done?
We will have to re-evaluate our family situation when the time comes.
I am so thankful for everyone who supported me in this decision.
There can be people who will tell you 'you are crazy' and that 'it's unsafe.'
Maybe I was crazy – but I am very happy and confident in our birthing choice.
Donnelyn, Sue and Melissa took great care of US – all of us!
They gave me space when I needed it.
They helped me through painful moments.
The advised me and helped when we were frustrated, exhausted and overwhelmed.
They intervened when necessary.
They provided us with love – prayer – and a beautiful birth!
We are blessed and Edie is a great baby – happy – healthy and perfect!
She has completed this long wait, as a perfect addition to our family.
We are all IN LOVE!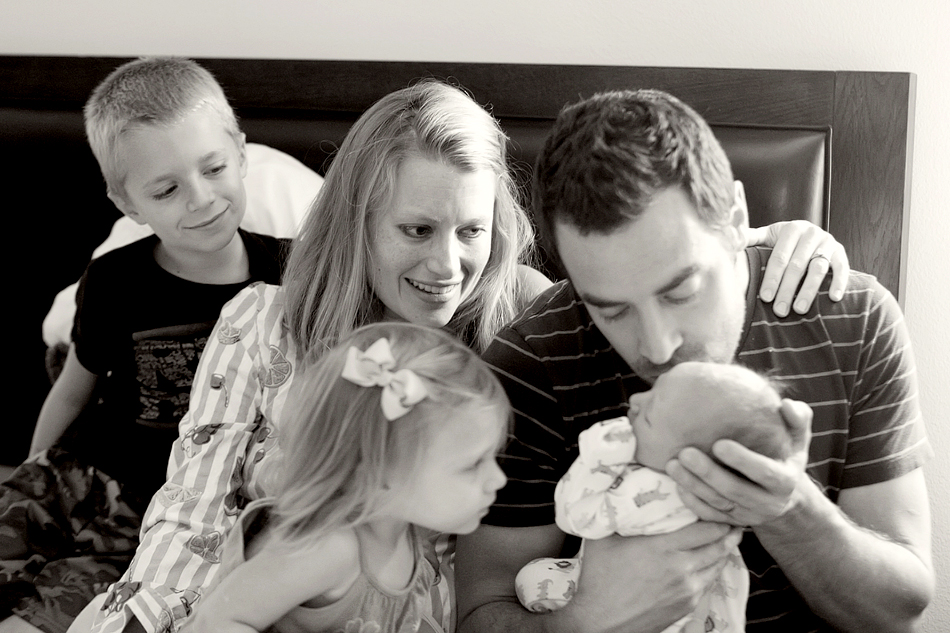 Special thanks to PAUL – for your AMAZING DEVOTION to your laboring wife.
My family – for being there and loving us… and all of the support BEFORE AND AFTER baby Eden joined our lives.
For our midwifery team for carrying us through and making our health and desires priority… and keeping us safe.
The infinite amount of blessings and prayers we received from our friends whom we have met and yet to meet!
You have all been so wonderful for Paul and me – in this journey.
We love you all!!!
(if you want to get even MORE into my birth story… here is a video moments after birth!)